Ireland's 10 Most Fascinating Islands
An island among islands, Ireland looks out to some 80 isles from its shores, each with their own unique characteristics and story. While most are home to locals and vacationers, 20 of these islands remain uninhabited.
Time moves more slowly on an island, isolated from the mainland with fewer influences and foot traffic. In a sense, islands are conservancies and windows into the past – time capsules that ignite our imagination.
Ireland's islands appeal to travellers who love nature and traditional Irish way of life. Experience a different perspective of Ireland, from ancient monastic sites and traditional Irish-speaking communities to awe-inspiring creations from both Mother Nature and man which stand the test of time.
Scroll down to virtually "island hop" and discover our Top 10 most fascinating islands of Ireland.
Garnish Island
County Cork
Just off the southern coast of the Beara Peninsula in Bantry Bay lies the magical garden island of Garnish. Previously inhabited by the distinguished Bryce Family, Annan and Violet Bryce, this rocky outcropping was transformed into one of Europe's most famous gardens in the early 1900s.
With the help and vision of landscape architect Harold Peto, Garnish Island was quite literally "garnished" with whimsical gardens of exotic plants, walkways, terraces, lawns and beautifully designed buildings, including an Italian Garden, Clock Tower, wisteria engulfed Casita (or Tea House), Grecian Temple and Bryce residence.
The gardens opened to the public in 1925 and have remained a popular destination ever since for both locals and international travellers alike. Enjoy a coffee or snack at the landing pier before starting your leisurely stroll through the grounds, which generally takes about 90 minutes.
HOW TO VISIT: A day tour to Garnish Island may be added to any Beara Way Hike. Access Garnish from Glengarriff Bay by small ferry or water bus (15-min crossing).
Considered one of the highlights of the Beara Way hiking trail, Bere Island is a beautifully scenic and sparsely populated island of both historical and archeological significance. Hike along its coastal pathways and secluded roads, passing small farms and charming villages, and feel like you have the whole island to yourself. During the summer months, the island hosts a variety of festivals and events for islanders and visitors.
Situated at the mouth of Europe's deepest harbour, Bere Island has long been recognized as a strategic military site. There are a number of intriguing ancient ruins to explore, such as a megalithic wedge tomb, standing stone, ring fort and hut site. Military relics from the Napoleonic wars and World War One include the remains of an artillery battery, Martello tower, barracks, telegraph station and signal tower.
HOW TO VISIT: Bere Island is included on our Beara Way Hikes. To access the island, take a 15-minute passenger/vehicle ferry from Castletownbere.
Skellig Michael Island
County Kerry

When exploring County Kerry, one island not to miss is the dramatic twin-pinnacled crag of Skellig Michael off the Iveragh Peninsula. Rising from the wild Atlantic Ocean and breathtaking in appearance, this ancient Gaelic island monastery dating back to the 6th century was home to the monks of St Fionan for more than 600 years. Following the monks' departure from the island in the thirteenth century, Skellig Michael became destination for Catholic pilgrimages.
At first glance, this remarkable UNESCO World Heritage Site may feel reminiscent of Peru's Machu Picchu or the abbey of Mont-Saint-Michel north of Normandy, France. Or, you may recognize Skellig Michael from the Star Wars films, The Force Awakens and The Last Jedi.
Climb the 618 precarious stone steps to the monks' well-preserved beehive shaped huts and enjoy sweeping views of the rugged Atlantic Ocean and spectacular Ring of Kerry.
For a different perspective, book a boat tour of Skellig Michael and its adjacent twin, Little Skellig, for a up-close view of the birdlife: Arctic Terns, Gannets, Herring Gulls, Fulmars, Cormorants, Guillemots/Razorbills and Puffins. Little Skellig is home to the second largest colony of Gannets in the world with over 35,000 seabirds.
HOW TO VISIT: A day tour to Skellig Michael can be added to our Guided Kingdom of Kerry Hike, Self-Guided Kerry Way Hike, South Ireland Driving Tour (8 Days) and South Ireland Driving Tour (10 days). Access by boat from the marina in Portmagee. Season runs Mid-May through September, weather permitting. Must book well in advance, tours are restricted to a maximum of 180 visitors per day.


Great Blasket Island
County Kerry

The Blasket Islands are a group of six islands off the tip of the Dingle Peninsula which mark the most westerly point in Europe. Great Blasket Island, the largest in the group, hosts an abundance of wildlife and was the source of and inspiration for a number of traditional Irish poems and literature. Although the population never exceeded 176, the islanders were prolific writers and produced over 50 literary works. Due to the harsh living conditions, however, the island was abandoned in 1953.
Soak up the spectacular views from the village ruins or walk the moderate to strenuous 13-kilometre trail around the island, keeping your eyes peeled for Gray seals, dolphins, sharks, Minke whales, Gannets, Puffins and Shearwaters.
Blasket Island offers no electricity, TV or WiFi, making it an ideal destination to unplug and take a "tech break." Travellers may visit for the day, camp overnight or stay in one of four basic, self-catering cottages.
HOW TO VISIT: Add to any Dingle Way or Kingdom of Kerry tour. Take a passenger ferry from one of three locations on the Dingle Peninsula during the Spring, Summer and Autumn, weather permitting (crossing 20-40 min).
Aran Islands
County Galway
West of Galway Bay lie the wild, windswept limestone isles of Inis Mór, Inis Meáin and Inis Oírr, known as the Aran Islands. Though isolated with roughly only 1,200 residents, the islanders have come to be recognized around the world for their literary contributions, wool-knit sweaters, Irish Gaelic language and traditional Irish life.

Rich in history and archeology, the Aran Islands have a plethora of ancient sacred sites and ruins, the most popular being Dún Aonghasa on Inis Mór. This mysterious stone fort sits perched atop a 100-metre cliff overlooking the sea. Step into the remains of O'Brien's Castle, discover beehive huts and Celtic churches, and walk or cycle along the countless dry stone walls that snake through the island. It is unlikely that a greater concentration of stone walls exists anywhere else in the world. And, to think that these walls have largely remained in place for over 3,000 is quite astonishing!
HOW TO VISIT: Explore Inis Mor on our Guided Burren, Aran Islands & Connemara Hike and on our Burren Self-Guided Tours. Visits to Inis Meain and Inis Oir can be added to the Northern Ireland Self-Drive Tour and Self-Guided Burren Way Hikes. Ferries depart from Rossaveel, about 37 km (22 mi) west of Galway, as well as from Doolin. Accommodations include Bed & Breakfasts, Hotels, Hostels and Ireland's newest Glamping Self Catering pods.
Inishbofin Island
County Galway
Seven miles off the Connemara Coast is Inishbofin, a tiny charming island lauded for its stunning beaches, seaside cliffs, historic sites, birdwatching and stunning Atlantic coastal scenery. Explore the island on foot or hire bikes and follow the looped trails for remarkable panoramic views and sightseeing.
Stop by the Inishbofin Heritage Museum for a sense of history, visit the 16th century Cromwell's Barracks, discover numerous picturesque beaches and admire the island's dramatic geological formations of sea stacks, blowholes and seaside cliffs. Inishbofin is a breeding area for many bird species, notably Terns, Lapwings, Choughs, Skylarks and the rare and threatened Corncake. For travellers wishing to spend more time here, Inishbofin has a number of hotels, guesthouses, B&Bs and eateries.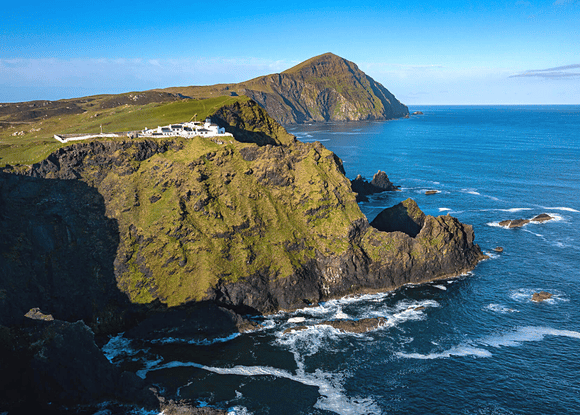 Just 3.5 miles off the west coast of County Mayo, Clare Island is the largest of the Mayo offshore islands, yet doesn't see many tourists. The island's terrain is punctuated with two large hills, bogs and woodlands, making Clare an interesting destination for walking. Enjoy an inviting, safe swim off the main harbour's lovely sandy beach, and find large number of nestling seabirds along the spectacular cliffs. Ireland's oldest fossil was discovered here in 1909.

Clare Island is most notably the former stronghold of the 16th century O' Malley clan and home of chieftain Gráinne O'Malley (Grace O' Malley), one of the most famous pirates of all time. Ireland's famous private queen is believed to be buried in the ruins of the Cistercian Abbey on the Island. The O'Malley clan and people of Clare Island are working toward the goal of restoring the castle and developing an interpretive centre to preserve and share the heritage of the O'Malley clan.


There are a handful of accommodations on the island including the historic Clare Island Lighthouse, established in 1806. Clare Island also offers campsites near the pier with facilities.
HOW TO VISIT: Included on our Guided Wild Atlantic Way Hiking Tour. To visit Clare Island, take the passenger ferry from Roonagh Quay, west of Louisburgh (20-min crossing). Car parking at Roonagh is free.
The largest of Ireland's islands with a population is just over 2,500, Achill Island attracts travellers looking for a healthy dose of the 'Wild West' of Ireland. The natural scenery of the island is staggeringly beautiful, with pristine sweeping beaches and magnificent mountains. It's no surprise that Achill Island is renowned throughout Europe and attracts photographers from around the world.

One of the most breathtaking coastal routes in all of Ireland is found here. Equally chuffed are local sheep who frequently meander along its winding roads freely.

Achill Island's Croaghaun Cliffs are the highest sea cliffs in Western Europe, measuring 688 metres. Tapestries of serene moorlands, peat bogs and thatched cottages present a striking juxtaposition to the jagged rocky ledges and crashing surf below.
If spending a few days here, Achill offers a variety of dining and lodging options – B&Bs, cottages, boutique hotels, guest houses and vacation rentals.
HOW TO VISIT:
Included on our
Guided Wild Atlantic Way Hike
. Achill Island can be reached by driving over the Michael Davitt Bridge swing bridge.
Tory Island
County Donegal
Ireland's most northerly inhabited island, Tory is steeped in Irish tradition like a strong cuppa tea. Though tiny in size, the island has witnessed some significant historic events from the Irish Rebellion and WWI. Tory Island played an important role in Irish mythology as the home of Balor, a Fomorian chief. Until recently, the islanders honored the King of Tory tradition dating back to the 6th century. The last King of Tory, Patsy Dan Rodgers, passed away in October 2018, along with the last remaining kingship in Ireland. The island has an active artist community of musicians and painters, some of whom have received international recognition, and all residents are bilingual. Visitors follow the loop trail for bird-watching, biking, walking and spectacular oceanic views. Lodging on the island is limited. The main accommodation is the Tory Hotel, and there are a few self-catering options.

HOW TO VISIT: Can be added to our Self-Guided Donegal Hiking Tour. Drive an hour north of Letterkenny to Magheroarty and board the ferry which departs daily, weather depending (45-min crossing).
Rathlin Island
County Antrim
Lastly, Rathlin Island, off the coast of Northern Ireland's Causeway Coastal Route, is a haven for history enthusiasts and birders – Rathlin is home to Northern Ireland's largest seabird colony. From the Rathlin Seabird Centre, observe a ruckus of Puffins, Razorbills, Kittiwakes from the viewing platform. King Robert of Scotland was exiled here in the 14th century before returning home and reclaiming his throne. And, divers can find over 40 shipwrecks in the waters surrounding Tory Island. Explore the more than twenty miles of walking trails of varying fitness levels and three unique lighthouses. During the spring and summer months, Rathlin's wildflowers bloom in profusion and put on a colorful show!

HOW TO VISIT:
Included on the 8-day
Antrim Glens and Causeway Coast Hike
and can be added to the Antrim 5-Day. To access the island, take the Rathlin Island Ferry from Ballycastle Harbour. Note, only drivers with special passes are permitted to board with their vehicle.
"Just got back form a great trip! Ireland Walk Hike and Bike is a service oriented touring company from the coordinator, Niamh, to our fantastic guide, Joe O'Donnell. They went out of their way on several occasions to assure we had the best walking tour of the Burren, Aran Islands and Connemara imaginable. The B&B's were perfect. Thank you to all!"
DAVID D.